WHY HAITI?
"A Cry for Help"
Fall 2004
It was just another beautiful tropical day in South Florida. I prayed, ate a light snack, and rushed off to the gym for an early-morning workout. Afterwards, while listening to the radio driving home, I was startled by a news broadcast. A jogger discovered several dead bodies that had washed up on a beach in Fort Lauderdale, Florida. Back at home, I turned on the TV to learn more. There were deceased men, women, and children. Deeply shaken, I pondered about who they were, where they came from, and how they drowned. The TV investigative reporter referred to them as the "Haitian Boat People".
I was relatively new to the West Palm Beach, Florida community with limited knowledge of the plight of the Haitian people, their politics, and history. In the next few hours, I discovered a few answers, but far more important questions were left unanswered – questions that would ultimately impact and alter my destiny, work and ministry for the next thirteen years and beyond.
I began to hear news reports that American citizens were being kidnapped for ransom in Haiti. The U.S. embassy had issued advisories, warning American citizens against traveling to Haiti. Yet, I still felt compelled to go. At the time, it was a burden that I could not adequately explain to my wife and daughter, who had serious concerns about my travel plans. Several weeks later a few business associates and I drove to Miami to take an early morning flight to Port-au-Prince, Haiti.
After arriving in Port-au-Prince, we stayed at the beautiful Montana Hotel nestled in the mountains overlooking the city and bay of Port-au-Prince. Over the next few days, we had an opportunity to meet with several government officials to gather more information, determine their needs, and explain some of our own interests.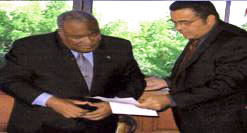 We were initially attracted to Môle-Saint-Nicholas in the Northwestern region of Haiti for a couple reasons. Two of our Haitian-American business associates were born in the area. It was also known to be one of the poorest regions in Haiti without any major industries, businesses, a hospital or university. The roads leading from the capital were and still are extremely poor, making the several hour trip from Port-au-Prince a challenging adventure. This is why most ministries, medical teams, and aid organization never reach the area.
Although the Northwest region needed the most assistance, we soon realized it also hosted the greatest number of potential sustainable development opportunities. At that time the population was 250,000 residents (est. 750,000 today). The region has miles of beautiful tropical white sand beaches, green mountains, and a natural deep water port. We envisioned creating new sustainable businesses, industries, and jobs for the Haitian people that would change their socio-economic status. The vision was great, but securing the investors to help implement projects was far more challenging, especially considering the political climate in Haiti. It took me years to finally understand the socio-economic, political structure, and intrinsic challenges of doing business and ministry on the island.
Having traveled to other Caribbean nations on business and trade missions, I've witnessed impoverished areas, but nothing prepared me for the level of poverty that I saw and experienced in the capital city of Port-au-Prince. Yet, in stark contrast, the government palace in Port-au-Prince was stunningly beautiful, filled with rare statues and artwork. There were also palaces, very rich Haitians living at the top of the city. Unfortunately, the palace, Montana Hotel, and many other historic Haitian buildings were destroyed along with over 300,000 Haitians who died during the 2010 earthquake.
On the return trip to Florida, the Haitian airline attendants asked us why we were there. After explaining, they invited us back and reminded us that Haiti needed our help. This only confirmed what I already knew, "Blessed is he that considereth the poor". Psalm 41:1. We are blessed to be a blessing. "The one who blesses others is abundantly blessed; those who help others are helped". Proverbs 11:25 (MSG). The "model" for generous giving is the Lord himself, "though he was rich, yet for our sakes, He became poor, so that by his poverty he could make you rich". 2 Corinthians 8:9 (NLT). Jesus was rich in His Father's presence, and His self-giving sacrifice on the cross has made all believers rich with the blessings of eternal salvation.
What a contradiction it is to profess to be spiritual, and yet not give faithfully to the Lord, to be our "brother's keeper". How selfish it is to be so abundantly blessed, and yet not to "considereth the poor". Haiti had changed my life. After my anger over what I had witnessed subsided, I knew in my heart that it was high-time to use my God-given gifts (talents) to help change Haiti. Christian giving flows from the heart, a wiliness to give so that others might be helped.
In 2007 my wife and I founded our long-dreamed-of-faith-based ministry: Prosper and Be in Health, Inc. (PBIH). With the belief that everyone, everywhere should "prosper and be in health, just as their soul prospers" (3 John 1:2). We began to support various ministries in Haiti and successfully partnered with Living Water Ministries, Inc. (LWM), who also owned land, schools, churches, and a medical clinic in Northwest Haiti.
PBIH had confirmed its WHY. Over the next several years, I continued to travel to Haiti, and PBIH has sponsored several outreach projects. We recently partnered with LWM on the newly constructed Anse Rouge Christian Secondary School (ARC) project located in Anse Rouge, Haiti. In addition, we are extremely thankful for the financial and construction management support of Food for The Poor, Inc., and their donors for carrying out this project. Because of this collaborative effort, students in the Northwest region can now attain a 7th through 13th-grade education and beyond.
We are transforming Northwest Haiti one student, one school, and one village at a time. Yet, from Haitian children and families, we still hear their "Cry for Help". Please help us prosper youth, and families in Haiti through health, education, technology, and sustainable business enterprises. To learn more about us, to donate to our cause, or to partner on special projects, please go to the Prosper and Be In Health, Inc., website at https://www.pbihinc.com/.
Every Blessing,
Frederick Esters
Co-Founder/CEO
Prosper and Be In Health, Inc.
Email: pbih@pbihinc.com